Outlook 2003's Advanced Toolbar

Outlook 2003's Advanced Toolbar contains commands that allow you mainly to customize the interface on the fly, and the display of emails.

If the Advanced Toolbar is not visible, go to View > Toolbars, and click Advanced. Alternatively, right-click one of the other toolbars or menu labels ("File", "Edit", "View" …), and click Advanced.

Customizing the Advanced Toolbar in Outlook 2003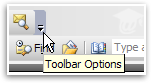 Outlook 2003's Advanced Toolbar can be easily customized by checking or un-checking command labels.

To add or remove buttons from Outlook 2003's Advanced Toolbar, click on the downward arrow at the right end of the toolbar.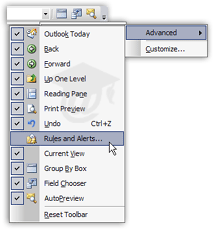 The Advanced Toolbar's customization menu will appear.

Choose Add or Remove Buttons > Advanced, and click the commands you wish to show or hide.



Visible commands have a checkmark to their left. To hide a command from the toolbar, simply click its name. The customization menu will stay visible until you click somewhere outside it, or hit the escape key.

By default, all buttons are visible. To make all buttons visible on the Advanced Toolbar, click Reset Toolbar.

The Customize menu item allows you to tweak options for all of Outlook 2003's toolbars and menus. These settings are covered under the Customize Dialog tutorials.
Outlook 2003 Advanced Toolbar's Commands
Outlook 2003's Views Drop-down Menu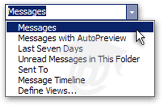 Outlook 2003's Current View drop-down menu allows you to filter the emails you see in the current folder.

Emails are left untouched, but only some are displayed, those matching the Current View menu's selected condition.

The future Using Outlook Views Tutorial will cover Outlook's Views.