Outlook 2003 and Windows' System Tray
Like any email client, Outlook 2003 typically runs all the time on your computer, but is only needed to send or read emails. In the past, Outlook would have its own button in the Windows Taskbar, like any other program, as well as its listing in the Alt-Tab popup.

But Outlook 2003 introduces a new feature, the ability to minimize itself to the Windows system tray, near the clock.

Outlook 2003's "Hide When Minimized" feature clears the Taskbar from the Outlook window button. Outlook still runs in the background, it is simply hidden.
The "Hide When Minimized" option is not enabled by default in Outlook 2003.
Outlook 2003 System Tray Menu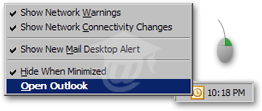 Clicking or right-clicking on Outlook 2003's system tray icon will reveal its system tray menu.

Outlook 2003's system tray menu contains "behavior" options, described below.
Show Network Warnings and Show Network Connectivity Changes determine what messages will be shown by Outlook 2003 when it is used with a Microsoft Exchange server. These settings will not affect you either way if you are not using an Exchange email server.
The Show New Mail Desktop Alert enables or disables the ticker that displays on the lower right hand corner of your screen when new emails arrive. Outlook 2003's email ticker is discussed in the New Mail Desktop Alert tutorial.
Hide When Minimized enables or disables Outlook 2003's ability to minimize itself to Windows' system tray, and hide its button from the taskbar.
Open Outlook focuses on Outlook or restores it.
Double-clicking Outlook 2003 icon in Windows' system tray will restore Outlook into view.
Hide Outlook 2003 icon from the System Tray
There is no way to disable Outlook 2003's system tray icon from Outlook itself, but you can do it by changing Windows XP's taskbar properties.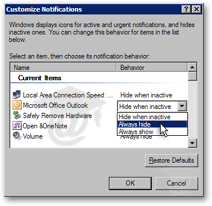 Right-click on Windows' Start button, and choose Properties. Click the Taskbar tab, and click the Customize button next to Hide inactive icons.

The Customize Notifications dialog will open, and show you a list of icons that appear in Windows' system tray.

Each description under the Behavior column is clickable, and expands into a drop-down menu containing options Hide when inactive, Always hide, and Always show.

Click the behavior next to Outlook 2003's icon, and set it to Always hide. Click OK to validate your choice, and Ok to close the Taskbar and Start Menu Properties window.
Restore The Outlook 2003 System Tray Icon

Outlook 2003's icon will then be hidden; to reveal hidden icons, click the system tray's [«] chevron. To restore Outlook 2003's visibility in the tray, repeat the procedure and choose Always show next to Microsoft Outlook 2003.