Outgoing Server Settings in Outlook 2003
The Outgoing Server Settings determine how Outlook 2003 will "talk" to the email server when trying to send out emails: more specifically, whether emails are sent with or without first validating your user information ("credentials").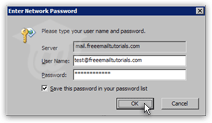 In some cases, and even more often in the past, this extra layer of security was not required by your email provider, and no user authentication took place before Outlook could send emails out.

However, with mail servers increasingly being used as relay for junk mail, more Internet Service Providers (ISP) and email providers mandate outgoing authentication.
The Importance of Outgoing Authentication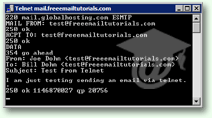 Above is the screenshot of a successful email sent through Telnet (a free program that comes with Windows), bypassing any user authentication.

Because this (former) email provider did not mandate outgoing authentication, its mail server could be used as relay for spam (junk mail).

Your provider's mail server being used as spam relay has direct repercussions on you:

• Your mail server's IP address (a unique numerical ID on the Internet) is blacklisted by spam-fighting software, and your legitimate emails are blocked as potential junk mail by other email providers.

• Your email address is used to spam others, reflecting poorly on your organization - since most people will assume that you are spamming them.

• Because the mail server deals with so many illegitimate emails, its performance takes a hit, to the potential point of crashing, leaving everyone without email service.

It is in all email users' interest to encourage your email provider to mandate outgoing authentication, a simple extra step to drastically reduce the volume of worldwide junk mail.

To customize your email accounts in Outlook 2003, go to Tools > Options.

Select the Mail Setup tab from the Options dialog, and click E-mail Accounts.

Select the email account and click Next.
Outgoing Server Settings in Outlook 2003

Increasingly, to fight spam by preventing mail servers to be used as relays for junk mail, Internet Service Providers (ISP) and Email Providers require that authentication takes place before their mail server can be used. Outlook 2003 can accommodate these requirements.
Check with your email provider if this option is required. If it is, you would set it up under Outlook 2003's Outgoing Server tab. In most cases, the login information will be the same as that used to retrieve your emails from the server, where user name is the email address.
Enabling Outgoing Authentication in Outlook 2003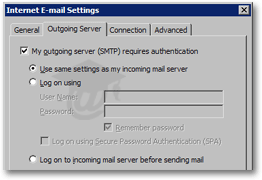 To enable outgoing authentication in Outlook 2003, check the My outgoing server (SMTP) requires authentication checkbox.

If login credentials are the same as your email account's, leave the default selection, Use same settings as my incoming mail server. By incoming mail server, Outlook refers to the credentials needed to retrieve emails from the mail server. "Incoming mail server" is the server from which you download your emails.
In the uncommon scenario where credentials are different from your email account's, simply check the Log on using radio button, and type in the appropriate User Name and Password.
SPA Authentication in Outlook 2003

If required, check the Log on using Secure Password Authentication (SPA) checkbox. In doubt, leave this box unchecked: this is used to enforce encrypted authentication, and most email providers do not support it.
"Log on to incoming mail server before sending mail" — since this last option requires a non-standard mail server setup (configured to use "POP before SMTP" authentication), your internet service provider or email hosting company will let you know if you can or should use it.