Connection Settings in Outlook 2003

Outlook 2003's Connection Settings determine how Outlook will connect to the Internet to send and receive emails, check for updates, etc. The possible connections Outlook will use are those defined in your Windows Control Panel's Network Connections settings.

To customize your email accounts in Outlook 2003, go to Tools > Options.

Select the Mail Setup tab from the Options dialog, and click E-mail Accounts.

Select the email account and click Next.
Configuring Connection Settings in Outlook 2003
By default, Outlook 2003 will use whatever connection is available to the Internet, but this behavior is configurable, and Outlook can even establish itself an Internet connection.
Connection Options in Outlook 2003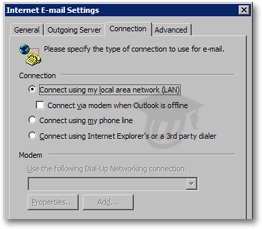 When the mail server is internal, (as often is corporate settings), you do not need a direct Internet connection to retrieve your emails to the server - the mail server and the outgoing mail server are themselves connected to the Internet.

The default option, Connect using my local area network (LAN), nearly always works, since it instructs Outlook 2003 to follow your Windows' settings for connection to the Internet.
This configuration have been set by your System Administrator, or by yourself, following your Internet Service Provider (ISP) instructions.
Checking the Connect via modem when Outlook is offline checkbox authorizes Outlook 2003 to automatically establish a connection to the Internet if it finds no available connection. Since it is safer to be offline than online, you should retain control of Internet connection state by not allowing applications to enable connections on their own.

The Connect using my phone line option concerns dial-up connections to the Internet: Outlook 2003 can automatically dial to your ISP to establish an Internet connection when it doesn't find one. The same above remarks apply, and we recommend that you leave this option aside.

If enabled, the Connect using Internet Explorer's or a 3rd party dialer option authorizes Outlook 2003 to use a dialer to establish an Internet connection. If you don't know what a dialer is, you are probably not using one.
The Modem section of the Connection tab allows you to choose which modem to use, and edit its global properties (otherwise available from the Windows Control Panel.)
Outlook 2003 Modem Settings
The Modem section of Outlook's Connection Settings will be disabled (grayed-out) unless you checked Connect via modem when Outlook is offline, or have enabled Connect using my phone line.

In this case, you will be able to configure Outlook 2003's Modem settings.

The Use the following Dial-Up Networking connection drop-down menu displays all Internet connection setup in Windows, that Outlook can use to go online.
The Properties button opens the selected network connection's Properties window, otherwise accessible from Windows' Control Panel, under Network Connections.
The Add button will open the Windows New Connection Wizard, and allow you to configure a new connection to Internet.